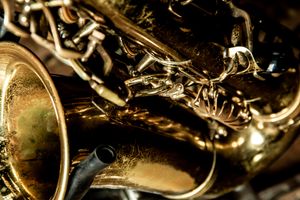 Bruce Eskovitz Jazz Orchestra
"A riveting big band sound with gusto, the music roars out of the box
with force and in brassy fashion." - EJazz News
Exciting and satisfying, intelligent, yet soulful, traditional but contemporary, the Bruce Eskovitz Jazz Orchestra brings together all that is good and true in jazz today.
Their Invitation summons music fans to a rousing good time. One that can be enjoyed over and over again, and should not be missed!
BEJO features world-renowned jazz masters, led by veteran saxophonist and composer Dr. Bruce Eskovitz, who combined the power and soul of a big band with the agility of a small ensemble, producing music that is as exciting as it is beautiful. Variety is at the center of the band's repertoire with original compositions and arrangements that cover the territory from Hard Bop to funk, and everything in between. 
Dr. Bruce Eskovitz and the Bruce Eskovitz Jazz Orchestra (BEJO) are available for jazz festivals, movie/TV soundtracks, recordings, concerts, club dates, college, high school and middle school appearances, and clinics.
BEJO features some of the best jazz musicians in Los Angeles today.
With two saxes (soprano, alto, tenor, flute, bass clarinet), two trumpets/flugelhorns, trombone, piano, bass, guitar and drums, BEJO delivers a truly unique modern sound. 
Dr. Bruce Eskovitz, Tenor & Soprano Saxophones, Alto Flute  
Billy Kerr, Alto Saxophone, Flute  
Larry Williams, Trumpet, Flügelhorn  
Jeff Jarvis, Trumpet, Flügelhorn  
Andrew Lippman, Trombone  
Ian Robbins, Guitar  
Mark Balling, Keyboards  
Adam Cohen, Basses  
Angel Figueroa, Percussion  
Steve Barnes, Drums

"The leader's hot improvisation rocks the house with unbridled energy, as his orchestra follows suit with myriad harmonic layers."
- Jim Santella, LA Jazz Scene