Jazz Composer / Saxophonist, Dr. Bruce Eskovitz
"Dr. Eskovitz is quite the discovery. A wailing tenor player... with a full-bodied sound, he plays with a jolting urgency, as well as sensitivity. His compositions reflect the completeness and versatility of his playing: Adventurous, yet accessible; hard driving, yet full of dynamic contrast. His arrangements often are surprising, even stunning, in their originality."
- Bob Protzman, Erie, PA Times-News
"Eskovitz has a very "forthright" playing style that will
pull you right in to the musical web he weaves, and fill your heart with joy! If you love high-spirited and well-played jazz, this is your ticket to nirvana."
- Pacific Coast Jazz
Dr. Bruce Eskovitz was eleven years old when he fell in love with the sound of the tenor saxophone, and by the age of thirteen had begun his professional playing career.
While other Southern California teenagers tuned in to rock n' roll, Bruce hung out with Sonny Rollins, John Coltrane, and Stan Getz records until he could play their sound. By the age of twenty, Bruce was composing music for "The Merv Griffin Show." He remembers handing Plas Johnson and Ray Brown his tunes and was encouraged by their positive reaction. 
Dr. Bruce Eskovitz is in demand as a jazz artist on the L.A. jazz club scene where he appears regularly at Catalina Bar and Grill, Charlie O's, Steamers, Jax Bar and Grill, The Santa Barbara Jazz Festival, Beverly Hills Affaire in the Garden, The Lighthouse, Café 322, Industry Café & Jazz and Cava. 
Dr. Bruce has performed and recorded with many great and diverse artists, including Joe Cocker, Natalie Cole, Freddie Hubbard, Doc Severinsen, Joe Williams, Rosemary Clooney, Jimmy Webb, Bill Watrous, Elliot Smith, Dwight Yoakum, Jane Monheit, The Fifth Dimension, Rita Moreno, Jack Jones, Bobby Vinton, Shari Lewis, Ernie Watts, and many other celebrities. He plays soprano, alto and tenor saxophones, flutes and clarinets. Some of his other compositional and performance credentials include the Los Angeles productions of "Beatlemania" and "Timbuktu," countless records and jingles, The John Davidson Show, The Danny Gans Show, The Ebony/Jet Celebrity Showcase, the ABC TV show Santa Barbara, Ollie Mitchell's Sunday Band, Frank Capp's Juggernaut, and "The New American Orchestra." He is currently fronting his band BEJO (Bruce Eskovitz Jazz Orchestra) featuring some of the best jazz musicians in Los Angeles. 
Dr. Bruce's career as an educator boasts several major accomplishments: he is Director of the Instrumental Music Program at the prestigious Windward School in West Los Angeles. Previously he was a full time lecturer at The University of Southern California where he directed the Jazz Ensemble Program, taught jazz theory, as well as saxophone and jazz improvisation; he founded the award winning Jazz Music Studies Program at Crossroads School for the Arts and Sciences in Santa Monica, CA, where he maintains his role as Artist-in-Residence.  Dr. Bruce is also active as a clinician and soloist. 
Dr. Bruce holds a Doctor of Musical Arts degree from the University of Southern California in Jazz Composition, a Masters degree in Jazz Studies from the University of Southern California, and a Bachelors of Arts degree in Music from California State University Northridge.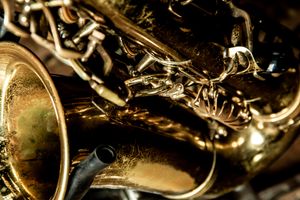 DR. BRUCE PLAYS:   
Dr. Bruce plays:   
Vintage Selmer Mark VI Saxophones  
Yamaha 687 C Flute  
Gemeinhardt Alto Flute  
Buffet Bb R13 Clarinet  
Vandoren ZZ Reeds for all Saxophones 
Vandoren Reeds for Clarinet